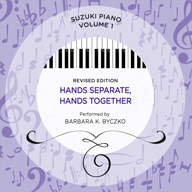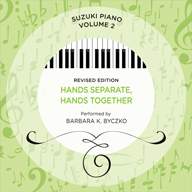 The Hands Separate, Hands Together Series® was developed in 2002 as part of Master's Thesis study. It has helped students and parents across North America, Australia and Europe to learn the Suzuki Piano repertoire more effectively.
Available for Suzuki Piano Volume 1 and 2 (International Edition), each piece is performed:
1. Right Hand Only
2. Left Hand Only
3. Hands Together
*With the exception of unison pieces in Volume 1.
The title of each piece is announced and the tempos of the hands separate tracks are slower.
Fee: $12.50 per download
Link is sent within 24 hours of payment received. Please ensure your email is correct when ordering.
Link will expire, please download upon receipt.
Hands Separate, Hands Together: Suzuki Piano Volume 1
Hands Separate, Hands Together: Suzuki Piano Volume 2